One (or Two) Bedroom/Bath
** GIRLS ONLY ** (sorry, University House rules) Two private bedrooms and baths available for subleasing in a four bedroom/four bath apartment at University House Birmingham. One of my roommates and I are both moving to a new location after just graduating college and need to be out by the end of June at the latest, however our lease doesn't end until July 30. We are both looking for someone to sublease our rooms (they are individually leased) from now until the end of July, and then could potentially sign your own lease to stay in the same room. We are located right beside Regions Field, Good People Brewery, Tortugas Pizza, and much more. Each bedroom has their own bathroom. Each individual apartment has a living room, kitchen, and washer and dryer. The complex also includes a pool, a gym, free tanning, a common room, study rooms, and a parking deck that has an entry to each floor (the rent includes parking deck sticker). Electric bill is not included in rent. It is split evenly each month among the four residents. It usually averages $50/month.
Other listings by Kelsey
Similar Results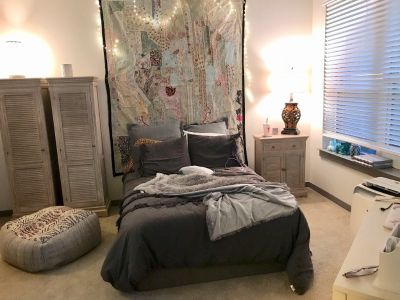 https://claz.org/birmingham/sublets/one-bedroom-apt-super-nice-large-1bfmm9rx19q.html
Gorgeous one bedroom apartment to sublet through August 5, 2018. One large bedroom, large bathroom with garden tub and shower, large walk in closet, large balcony and large kitchen and living room. Washer and dryer also in the apartment! Free Wifi and the electric and water bill together runs about $55 per month. Please see the website for the complex at www.venueballpark.com to look at the ame...